Recognising companies that walk the talk
"The core of creating great workplaces is building high-quality relationships in the workplace, relationships based on trust."
Recognising companies that walk the talk
It's our mission to make companies great places to work, and it's fabulous to see so many of our friends be recognised as just that.
"The core of creating great workplaces is building high-quality relationships in the workplace, relationships based on trust."
This year's GPTW list of the 50 Best Places to Work in Australia was revealed at a ceremony last week, attended by big companies and small. For the past 38 years, this benchmarking study has been putting company culture front and centre, as the list recognises companies for their hard work in going the extra mile. And this kind of recognition is a big deal for the winners in the battle to attract and retain talent – it's a true litmus test of what new hires can expect, as their rankings are to a large degree based on their employees' survey answers and testimonials. 
It's these surveys and testimonials that speak volumes about the kind and quality of every day workplace relationships, which are essential ingredients for positive corporate culture and employee engagement.
And at our annual Culture Immersions and #CULTUREBites table, we've witnessed firsthand and listened to the success stories of some of these awardees, like our friends at Amicus, Beaumont People, Cisco, Insentra, LogMeIn, and The Physio Co. What do they have in common?  They've all taken steps to ensure a strong organisational culture by building relationships based on trust and prioritising the quality of their employees' work life. Their efforts have certainly paid off.
So what else can be done to maintain a healthy work culture?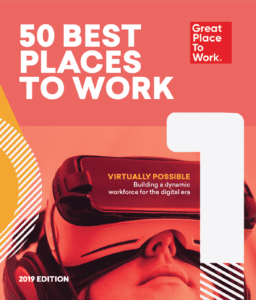 The GPTW list doesn't just list great workplaces – it provides an interesting perspective on a topic that's relevant in today's digital economy: Artificial Intelligence (AI).
Specifically, it explores how AI can help culture mavericks and culture change champions improve hiring procedures, removing biases, and help retain talent. According to the study, 80% of the GPTW-certified companies recognise employee retention as their top challenge. Retaining talent, as opposed to simply attracting talent, is now the main priority for these organisations.
Since the on-boarding experience is key to retaining and engaging employees, HR managers (more commonly rebadged as People & Culture (P&C) managers) can tap AI's unique ability to create custom on-boarding experiences backed by robust employee behavioural data. Data that can analyse and predict each employee's needs, and at the same time, suggest early interventions that management can perform is a powerful tool. All are positive effects that contribute to the long-term well-being of companies, employees, and society in general. 
So who else received the GPTW stamp of approval?
Let's take a sneak peek of some of the winner's unique solutions to better on-boarding experiences and the company culture.
Under 100 employees
The BOOM! card wall at Avenue Dental (#1) not only enlivens their environment with positive vibes but also recognises those who live the company values in front of colleagues, reinforcing the desired behaviour of treating one another like family. 
(#4) Amicus' clear focus on its people allows employees to take part in value-based peer-to-peer awards and enjoy work-life balance with great company benefits and a focus on wellness. Well employees perform better.
Between 100 and 999 employees
To inject a little more fun into the on-boarding experience, Canva (#2) introduced a "treasure hunt," a values-based activity where newbies use clues to uncover specific locations and people around the office.
Optiver (#8) has created a bespoke Visual Reality headset experience. The VR sets offer a 'choose your own adventure' style tour of the company and its culture.
Over 1,000 employees
Salesforce (#1) starts every presentation with a "Thank you" slide. And to make it easy for their employees to recognise their peers for a job well done, they have created "Thanks" badges on Chatter.
Curious to see the whole list and gain a better understanding (and appreciation) of what makes GPTW-certified companies tick? 
There are two ways:
Oh, and if you are quick, you can join us for #CULTURE19 our all-day Immersion on 18 September. Final seats going fast!