NAVIGATING THE EXTINCTION ZONE
"Remember my mantra: distinct … or extinct."  Tom Peters
Navigating The Extinction Zone
a guide to successful change management
Change is the new normal.
But up to 70% of change initiatives fail in business because of negativity towards change, and the inability of the change to be managed competently due to dysfunctional and conflicting behaviours and attitudes.
And it's more than that.
The varying levels of tolerance to change are influenced by a number of factors: the reason for the change in the first place, the market drivers, the rate of technological changes, the viability of the company culture, availability of resources to support the change, the agility of the workforce, and the impact the change has on people.
""In today's business world, it is crucial to be able to change well. The survival of your business relies on it.  Change will not come if we wait for some other person or some other time.
We are the ones we've been waiting for.
We are the change that we seek."
Barack Obama
When undertaking a change process the 'out-with-the-old-and-in-with-the-new' mentality can receive very different reactions: some are eager to move on, comfortable with, and excited by, the uncertainty change brings – some thrive on it; others feel a sense of loss from moving away from the old and familiar – the comfort they felt from knowing how things worked, and the psychological safety they experienced as a result, goes.
Want to read more?  We've written an e-book, full of advice and worksheets for you to build your own plan to Navigate the Extinction Zone.  Download it now, with our compliments, and let us know what you think.
Acknowledgement  E-book editing and design: CCI.  E-book Author: Diane Gray of Change Play Pty Ltd (www.getagameplan.com.au)
How to download NAVIGATING THE EXTINCTION ZONE
To access the PDF, click on the image – it will open in a new window, for you to read or download to your computer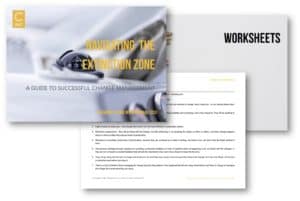 Acknowledgement  E-book editing and design: CCI.  E-book Author: Diane Gray of Change Play Pty Ltd (www.getagameplan.com.au)