Taking values off the wall
"The soul never thinks without a picture" – Aristotle
The Culture Deck reimagined
Have you heard of the Netflix Culture Deck? When released it spawned a whole new approach to how culture is communicated inside and outside the organisation.  Gone were the days of writing the company values on the wall, and seeing them become as invisible as the emergency procedures poster.  Gone were the days of the values only coming out of the drawer when a performance review was imminent.
A company who has done their own take on the Culture Deck is Wealthsimple.  Wealthsimple are a Canadian investment house, who have won awards for their website (2016 and 2017 Webby Awards) who are "on a mission to bring smarter financial services to everybody, regardless of age or net worth.".  They are growing so fast and doing so well, Justin Trudeau, the Canadian Prime Minister is pictured on their website, snapped during his visit.
So Wealthsimple's refreshed approach to the Culture Deck?  Well, they created the Culture Manual. Sounds boring at first listen (is the word "manual" the right one?), but they have taken the Manual online, and made it interactive … so it's a pretty cool use of tech instead of flat words on a page or a downloadable PDF.
And it's a great example for anyone looking to visualise their culture in a unique way for both internal and external audiences.
Mallory Greene explains: "We wrote down our beliefs, behaviors and values early on at Wealthsimple. The first version of any sort of company culture manifesto was a simple word document written by our founding team. We called it the Wealthsimple Way. The shared set of values of how we work, how we treat each other and why we're building this company."  
Having iterated over the years, the current version bring their purpose, values and personality to life.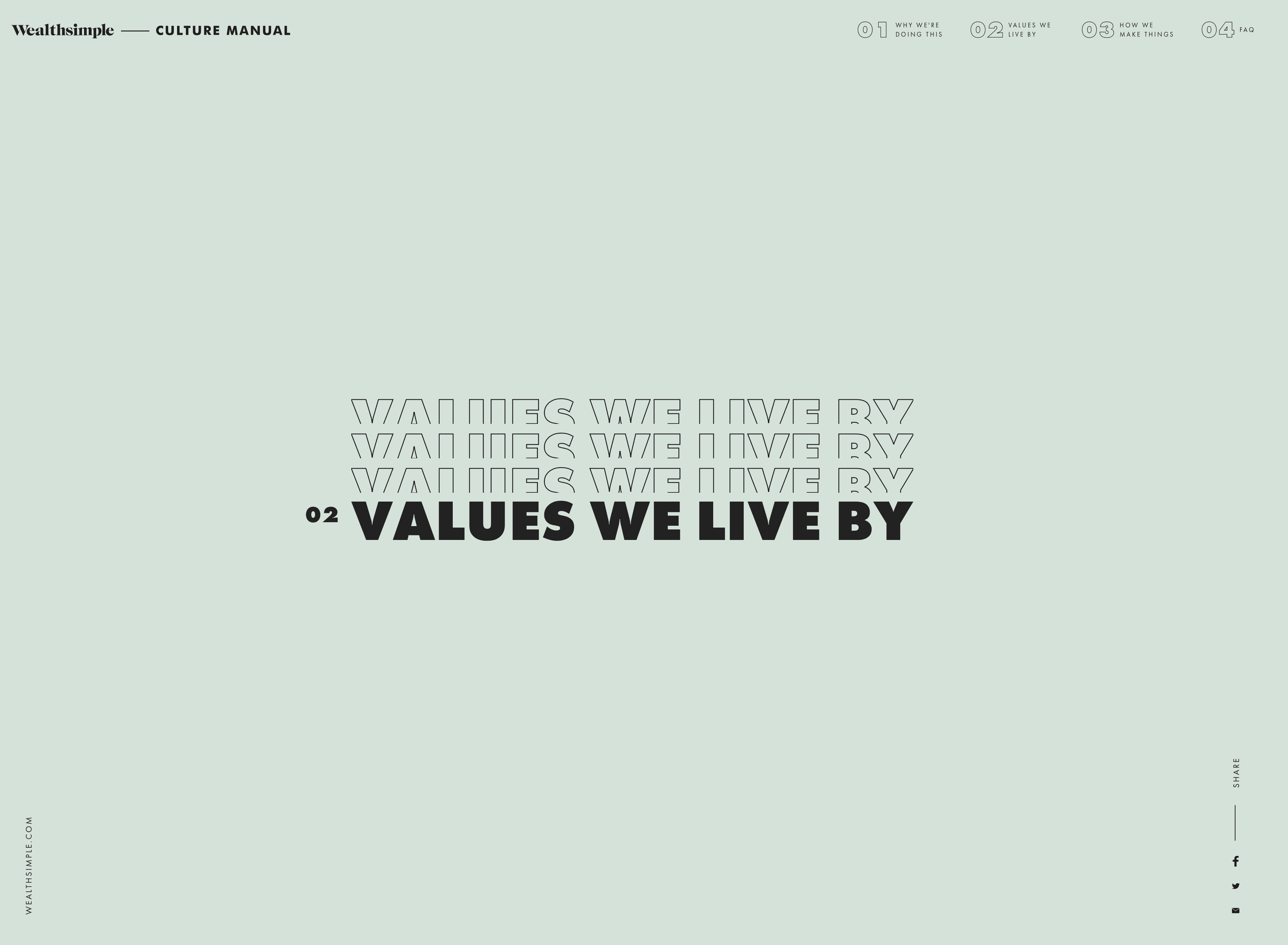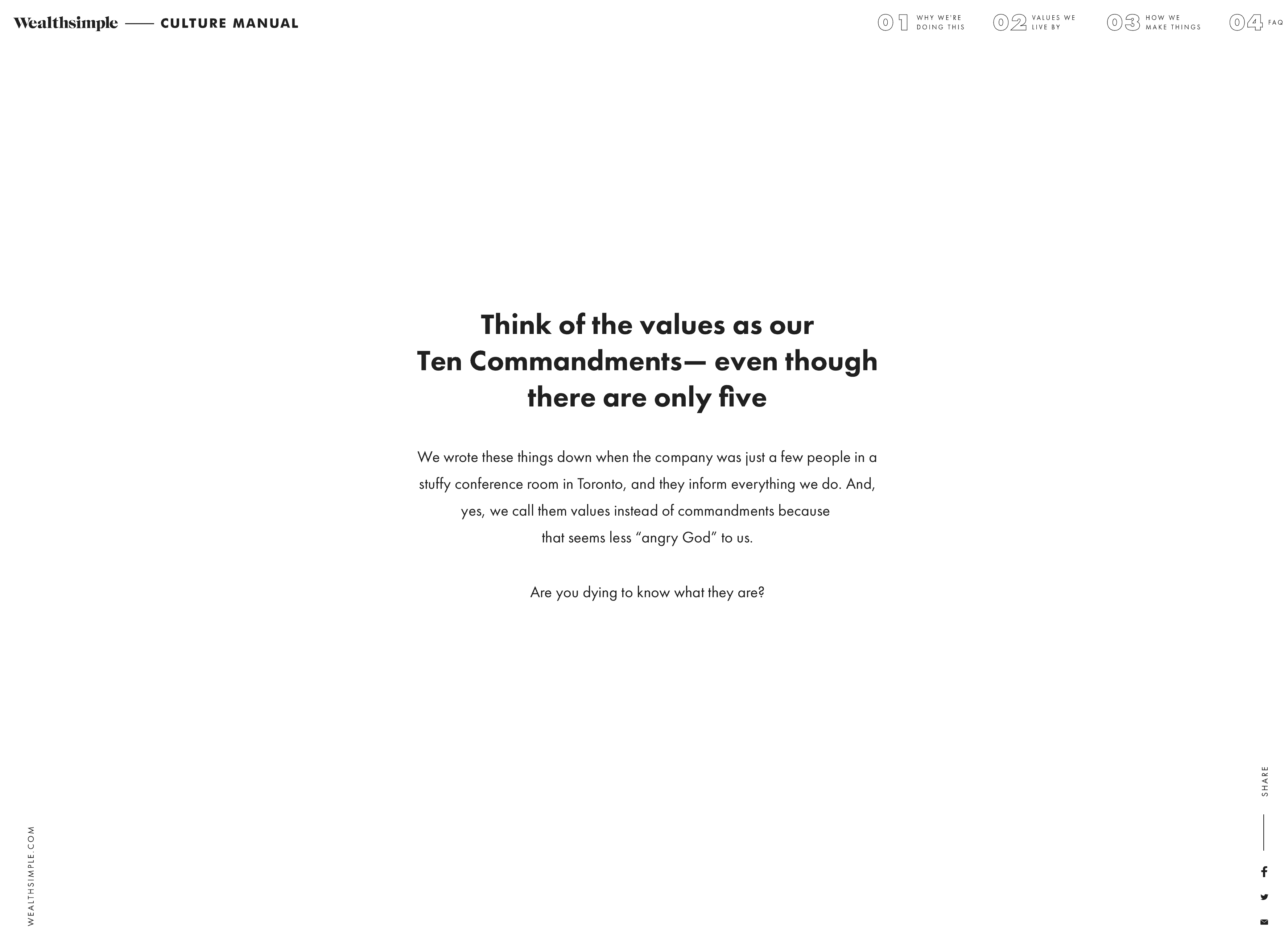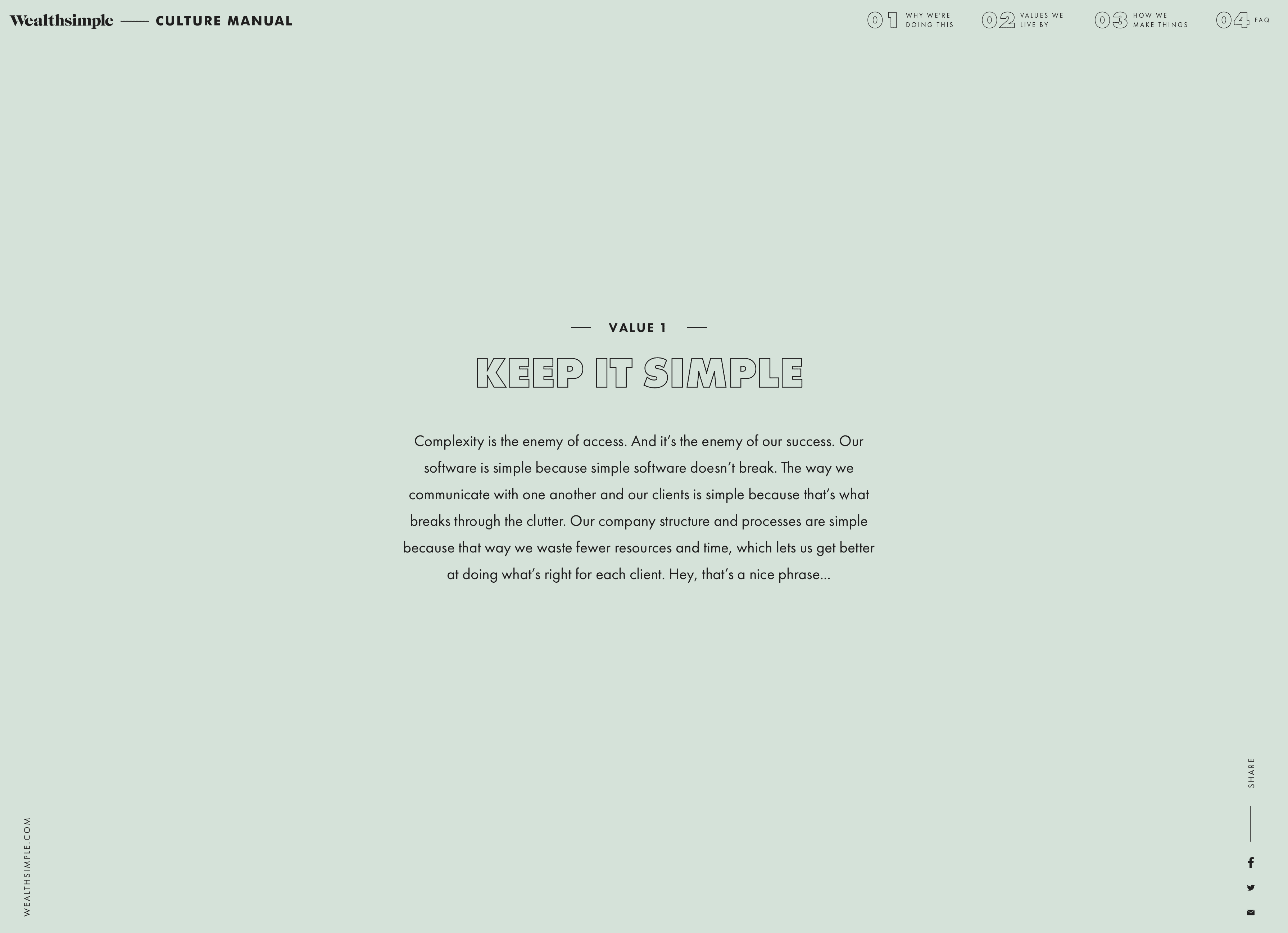 Wealthsimple have created a beautifully interactive webpage, their take on the Culture Deck that was a surprise viral hit when Netflix released theirs several years ago.
So why is it important to be so open about this "culture stuff?".  Well it helps prospective and new hires understand the culture that sits behind the company logo and glossy brochures. With so many companies who put their values on the wall but don't live them, it's a great way to demonstrate how different working for your company would be – and attract high performing talent who are culturally additive (rather than just culture "fits") for your workplace.
You can find the full Wealthsimple Culture Manual here.